The Spectre of Lanyon Moor (audio story)
Talk

0
Share

The Spectre of Lanyon Moor was the first Big Finish Productions Doctor Who audio story to feature Alistair Gordon Lethbridge-Stewart and the first 'official' meeting of the characters with the actors playing their characters. Nicholas Courtney had previously played the Brigadier in audio form in the two audio radio plays The Paradise of Death and The Ghosts of N-Space opposite Jon Pertwee and Elisabeth Sladen.
Publisher's summary
Edit
In a desolate Cornish landscape littered with relics of prehistoric man, the Sixth Doctor and Evelyn uncover a catalogue of mysteries.
What is the secret of the fogou? Can the moor be haunted by a demonic host of imps? And what is Brigadier Lethbridge-Stewart doing in Pengriffen?
Teaming up with his old friend, the Doctor realises that an ancient conflict is nearing its conclusion — and Lanyon Moor is set to be the final battleground.
to be added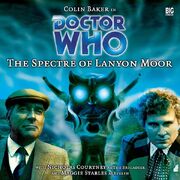 References
Edit
The Doctor
Edit
The Brigadier recognises the Doctor by how outrageously he is dressed and the manner in which the Doctor greets him.
The poem quoted by the Doctor is The Fairies by William Allingham.
Human organisations
Edit
The Brigadier is doing a little bit of undercover work for UNIT.
Locations
Edit
The Doctor once visited the Parthenon in Athens while it was being built.
Technology
Edit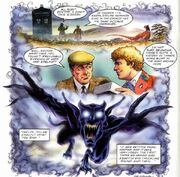 Continuity
Edit
External links
Edit
Big Finish monthly releases
Fifth Doctor
Adric, Nyssa, Tegan
Nyssa
Nyssa, Brewster
Nyssa, Hannah
Tegan, Nyssa
Tegan, Turlough, Nyssa
Turlough
Peri
Peri, Erimem
Amy
Solo travels
All stories in the main monthly range are included in this navigation box including the "subscriber exclusive" stories which are part of Big Finish Productions' subscription service for this range. All other stories are represented in other navigation boxes.
Ad blocker interference detected!
Wikia is a free-to-use site that makes money from advertising. We have a modified experience for viewers using ad blockers

Wikia is not accessible if you've made further modifications. Remove the custom ad blocker rule(s) and the page will load as expected.