The Watcher
Talk

4
39,492
articles in progress
The Watcher was a manifestation of the Doctor who appeared during the events that led up to the regeneration of his fourth incarnation into his fifth. He appeared to the Doctor himself and his companions and brought Nyssa to the planet Logopolis.
Biography
The ghostly figure of the Watcher had a white, featureless, unformed face and body and white clothes. Though he used the Doctor's TARDIS later, he apparently had the power to traverse time and space without external aid. (TV: Logopolis)
In a dream, the Fourth Doctor saw the Watcher and thought of his next incarnation. (PROSE: Into the Silent Land)
He was first seen silently observing events on Earth, particularly the events leading to Tegan Jovanka entering the Doctor's TARDIS. It was around this time that the Doctor first noticed the Watcher.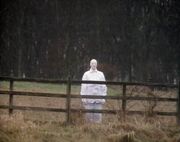 Although apparently silent, the Watcher was capable of communication. He communicated with the Fourth Doctor (and was seen apparently carrying on a conversation of some sorts, though what was said is unknown) and, later, his companion Adric. The Watcher, apparently on his own accord, transported Nyssa from Traken, a planet which would soon die in the entropy wave, to Logopolis and safety. Later, apparently working on the Doctor's instructions, he piloted the TARDIS from Logopolis to keep Adric, Nyssa and Tegan safe. It was during this voyage that the Watcher engaged Adric in a private conversation.
At the moment of the Fourth Doctor's death, the Watcher appeared and merged with the Doctor to create the Doctor's next incarnation. (TV: Logopolis)
While regenerating into his next incarnation, the Fifth Doctor again saw the Watcher. (AUDIO: Winter)
Behind the scenes
Time Lords
Unique Time Lords

Incarnations of Time Lords

Other Time Lords

Note: This only includes Time Lords who have appeared on the television series Doctor Who. Another list exists on this wiki that takes a broader, all-media approach.