Scrub away the lists, ladies.
This article contains far too many bulleted lists. These sections should be converted into normal prose.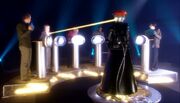 The Weakest Link was a television quiz show broadcast on the Gamestation in the 2001st century, it was produced by the Bad Wolf Corporation and hosted by the Anne Droid.
Although it was believed that the losers died, they were in fact transmatted to the hidden Dalek fleet for processing into Daleks of human origin. (TV: Bad Wolf)
Known contestants
Edit
Questions and answers
Edit
The name of which basic food stuff is an anagram of the word "beard"?
In the Pan Traffic calendar, which month comes after Hoob?
In maths, what is 258 minus 158?
Which letter in the alphabet appears in the word dangle, but not in the word gland?
In social security, what D is the name of the payment given to Martian Drones?
The Great Cobalt Pyramid is built on the remains of which famous Old Earth Institute?
In language, all five examples of which type of letter appear in the word facetious?
In the holovid series Jupiter Rising, the Graxnix is married to whom?
In maths, what is nine squared?
In geography, the Grand Central Ravine is named after which ancient British city?
In literature, the author of Lucky was Jackie who?
The oldest inhabitant of the Isop Galaxy is the Face of what?
In history, who was the President of the Red Velvets?
In food, the dish of Gaffabeque originated on which planet?
Which measurement of length is said to have been defined by the Emperor Jate as the distance from his nose to his fingertip?
In fashion Stella Bopbates is famous for what?
In history, which Icelandic city hosted Murder Spree 20?
Behind the scenes
Edit
The Weakest Link was based on a real-world game show of the same name, hosted by Anne Robinson.
In 2007, a special Doctor Who-themed episode of The Weakest Link featured Doctor Who actors David Tennant, Noel Clarke, John Barrowman, Camille Coduri, Andrew Hayden-Smith, Nicholas Briggs, Tracy Ann Oberman, Claire Rushbrook and John Leeson (in-character as K9). Camille won the game, and donated her prize money to the treatment of multiple sclerosis.

Both the fictional and real-life versions of the show used the question "In maths, what is 258 minus 158?".
'
Ad blocker interference detected!
Wikia is a free-to-use site that makes money from advertising. We have a modified experience for viewers using ad blockers

Wikia is not accessible if you've made further modifications. Remove the custom ad blocker rule(s) and the page will load as expected.