They Keep Killing Suzie (TV story)
Talk

5
32,715
articles in progress
They Keep Killing Suzie was the eighth episode of the first series of Torchwood. It marked the reappearance of Suzie Costello.
It was intended to be the first in a line of seasonal reappearances for the character, but Indira Varma was not available for filming during the production of series two as she was pregnant.
Synopsis
Edit
Torchwood is linked to a series of brutal murders around the city. As Jack and the team investigate, it becomes clear somebody wants their attention. What is Pilgrim - and how is it connected to a figure from Torchwood's past? The resurrection days are far from over.
Torchwood investigates a serial killer writing their name in blood on victims' bodies. During the inquiry, they meet Detective Swanson. A DNA analysis leads to a link between Retcon amnesia pills and the deaths. Gwen finds she can use the Resurrection gauntlet. Using it, they find the killer's name is Max, a member of a neighbourhood religious organisation called Pilgrim. They also find Suzie Costello was a member.
After resurrecting Suzie (apparently permanently), the team finds she overdosed a man with Retcon so severely, he became psychotic. They find Max and lock him in a cell. He is completely unresponsive except when the word "Torchwood" is said, at which he goes into a ten-second rage.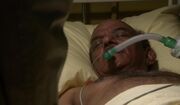 Gwen starts to bond with Suzie. Ianto and Owen discover Suzie is draining Gwen's life. While the rest of the team is in the conference room, Gwen takes Suzie to see her father in Greenleaves hospital. The team plan to follow them, but the Hub goes into lockdown, caused by Max repeating the first quartrain of Emily Dickinson's "The Chariot":
Because I could not stop for Death -
He kindly stopped for me,
The carriage held, but just ourselves -
And Immortality.
As Gwen and Suzie proceed towards the hospital, the rest of the team works out that Suzie had created a plan for her to be brought back to life and escape. Ianto connects his cellular phone to the Water Tower to get reception. Having no one else to call, Jack calls Swanson, asking her to get a book of poetry and read the poems to them, trying to reverse the lockdown. After some time, Toshiko guesses the book's ISBN might be the code, which proves to be correct.
Gwen and Suzie arrive at the hospital where Suzie reveals that Gwen is dying in her place. She disconnects her father from the machines keeping him alive. Knowing the team are nearing, she takes Gwen and drives to Hedley Quay, intending to escape on a ferry. Jack and Owen catch up in the Torchwood SUV. Jack shoots Suzie. She does not die, so Jack shoots her again and again, to no avail. Jack realises the connection is being held by the Resurrection gauntlet. Jack tells Toshiko to destroy it to break the connection. Suzie tells Jack that "something is moving in the dark and it's coming ... for [Jack]". When Toshiko destroys the glove, Suzie collapses and Gwen begins to recover.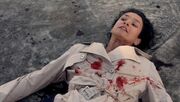 As Ianto and Jack put Suzie's body back into cold storage, Ianto asks what he should put on the death certificate. Jack answers "Death By Torchwood". Ianto suggests putting a lock on the storage unit in case she goes walking again, but Jack says the resurrections are over. Ianto points out that gloves come in pairs.
General production staff


Script department

Camera and lighting department

Art department


Costume department

Make-up and prosthetics

Movement

Casting

General post-production staff

Special and visual effects

Sound
Not every person who worked on this adventure was credited. The absence of a credit for a position doesn't necessarily mean the job wasn't required. The information above is based solely on observations of the actual end credits of the episodes as broadcast, and does not relay information from IMDB or other sources.
References
Edit
Story notes
Edit
This episode was originally known as They Keep Killing to preserve the surprise of Suzie Costello's return.
The story's title may have been inspired by an episode of The Avengers entitled "They Keep Killing Steed".
This episode contains the first reference to a sexual relationship between Ianto and Jack.
This episode also makes the first explicit reference to Jack's bisexuality in Torchwood (it had already been established in Doctor Who).
This episode reveals that there is some form of afterlife in the Doctor Who mythos. Suzie was apparently stuck in the dark, indicative of a purgatory-like domain. Suzie does not elaborate on whether there is a Heaven or Hell beyond this darkness, but that something was lurking around in the dark, hunting for Jack.
As is routine for Torchwood, The Sarah Jane Adventures, and the revived Doctor Who itself, a "NEXT TIME" trailer for the next episode is shown at the end of the episode.
Filming locations
Edit
to be added
Production errors
Edit
The second victim can be seen breathing whilst the camera pans over the couple lying on the bed the second time.
When Suzie and Gwen arrive at the dockside, the time of day changes from night to day.
When Gwen begins to receive Suzie's wounds, she does not get one under her chin, where Suzie shot herself, but does gets one in the back of her head.
Continuity
Edit
A resurrection gauntlet last appeared in Everything Changes and would again do so in Dead Man Walking. The latter episode would revisit the theme of reviving the dead on a permanent basis.
Suzie mentions something moving in the darkness, and says it is coming for Jack. This indirectly foreshadows Jack's confrontation with Abaddon in TV: End of Days. However, the true meaning of Suzie's last words is different. They actually foreshadow Torchwood Three's encounter with Duroc in TV: Dead Man Walking, the entity Suzie is alluding to.
Retcon was first seen being used to cause Gwen to forget Torchwood in the first episode of this series, TV: Everything Changes.
While connected to Gwen, Suzie's immortality - living despite the injuries done to her - greatly resembled the immortality later bestowed upon humanity following Miracle Day. (TV: The New World et al)
Home video release
Edit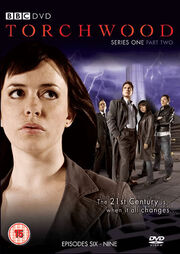 This episode was first released on DVD, with three other episodes entitled Torchwood: Series 1, part 2 on 26 February 2007. It was later released in Torchwood: The Complete First Series on 19 November 2007.
External links
Edit
Footnotes
Edit