Time and Relative was the first Telos Doctor Who novella. It featured the First Doctor and Susan Foreman. This is author Kim Newman's only contribution to prose-based Doctor Who. This novella is one of several stories set prior to An Unearthly Child.
Publisher's summary
Edit
The harsh British winter of 1963 brings a big freeze that extends into April with no sign of letting up. And with it comes a new, far greater menace: terrifying icy creatures are stalking the streets, bringing death and destruction.
The First Doctor and Susan, trapped on Earth until the faulty TARDIS can be repaired, are caught up in the crisis. The Doctor seems to know what is going on, but is uncharacteristically detached and furtive, almost as if he is losing his memory...
Susan, isolated from her grandfather and finding it hard to fit in with the human teenagers at Coal Hill School, tries to cope by recording her thoughts in a diary. But she too feels her memory slipping away and her past unravelling. Is she even sure who she is any more...?
to be added
Characters
Edit
References
Edit
Coal Hill School
Edit
Food and beverages
Edit
Literature
Edit
Magazines
Edit
Television series
Edit
The Doctor's items
Edit
Individuals
Edit
Susan mentions that the Doctor "has this strange idea that educators are the sharpest, most dangerous intellects on the planet." She attributes this to the fact that he has "never been to a parents' evening" at Coal Hill School.
It was Susan's idea to attend Coal Hill School (so she wouldn't stand out whilst they were trapped on Earth).
John Brent is nicknamed "the Martian" by Gillian Roberts as a result of his alleged resemblance to the Mekon, the main villain of the comic strip Dan Dare. As John points out, however, the Mekon is actually a Venusian. Furthermore, Gillian has nicknamed Susan "Forehead" based on her apparent surname.
There are several references by Susan, John and Gillian to their science and history teachers Mr Chesteron and Miss Wright.
The Doctor and Susan both have sizable gaps in their memories. Neither can recall the proper name for the TARDIS and therefore refer to it simply as "the Box." For the same reason, Susan refers to the Time Lords as "the Masters."
Susan remembers one particular Master, who was in the same class as the Doctor. He had a neat black beard and cold eyes. Susan remembers him as a Truant Officer, who would have been tasked with finding her and the Doctor when they fled their home.
The Doctor claims to have never broken the Time Lords' non-interference policy.
Susan likes the writer and political activist Lawrence of Arabia, particularly as portrayed by Peter O'Toole.
Susan wonders if Jean-Paul Sartre is a renegade Time Lord.
The characters John Brent and Gillian Roberts are named after John and Gillian, who accompanied the First and Second Doctors in early comic strip stories in which they were his grandchildren.
The illustration from the deluxe edition is by Bryan Talbot.
The book was published on the thirty-eighth anniversary of Doctor Who, which coincided with the death of the series' long time critic Mary Whitehouse.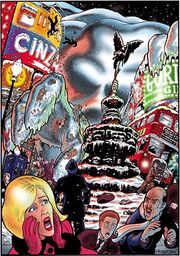 Continuity
Edit
External links
Edit
Ad blocker interference detected!
Wikia is a free-to-use site that makes money from advertising. We have a modified experience for viewers using ad blockers

Wikia is not accessible if you've made further modifications. Remove the custom ad blocker rule(s) and the page will load as expected.