52,244
articles in progress
Talk

0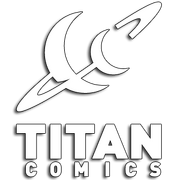 Titan Publishing Group — parent company to both Titan Books and Titan Comics — is a book and magazine publishing company which has enjoyed several different BBC Worldwide licenses to publish various DWU tie-in works.
In the 1990s, they published a number of Doctor Who scripts in the Doctor Who: The Scripts series, and thus gave fans their first glimpse at "official" versions of the scripts of some of the show's more popular serials, including the first publication of the unproduced script for The Masters of Luxor. These books were produced for the UK market, but also received limited distribution in North America.
TorchwoodEdit
From 2008 to 2010, Titan published Torchwood The Official Magazine, featuring behind-the-scenes articles and original comic strips and short stories based upon the spinoff. Publications spun-off from the magazine included a graphic novel compiling the story arc COMIC: Rift War and the hardcover publication Torchwood The Official Magazine Yearbook in 2008. As with the script books, the magazine and spin-off publications were primarily produced for the UK market but were imported to North America by specialty retailers.
From the summer of 2010 to early 2011, Titan's American branch published Torchwood: The Official Comic, which ran for six issues and reprinted most of the magazine's comic strips and short stories for North American audiences. [1] The first issue was cover-dated September 2010, but distributed in the summer. This comic was distributed in North America but not in the UK.
In issue #24 of Torchwood Magazine, Titan announced that due to BBC Worldwide realigning its promotions for Torchwood related to the 2011 broadcast of TV: Miracle Day, it was discontinuing publication of the magazine effective with issue #25. The US Torchwood comic was also cancelled, before it was able to reprint all of the magazine's comic strips and short stories.
Doctor Who comics Edit
Titan returned to the Doctor Who franchise when it was announced in late 2013 that its American subsidiary had picked up the North American licence to publish original comics based upon Doctor Who after the expiry of IDW Publishing's contract with BBC Worldwide.[2]
Titan Comics then began their Doctor Who run in July of 2014 with the publication of Doctor Who: The Eleventh Doctor and Doctor Who: The Tenth Doctor, followed by the launch of Doctor Who: The Twelfth Doctor in October.[3] All three series are published concurrently and are currently available in North American comic book shops, with UK fans able to access digital versions and a combined version called Doctor Who Comic, the latter launching in February 2015.
Titan released a limited-run series featuring the Ninth Doctor, beginning in April 2015 to celebrate the tenth anniversary of the Ninth Doctor's first appearance in the episode Rose. An ongoing series launched in April 2016. In late 2015 a limited-run series featuring the Eighth Doctor launched, followed in March 2016 by Doctor Who: The Fourth Doctor.
External links
Edit
Footnotes
Edit