Tom Baker
Talk

14
39,497
articles in progress
Tom Baker
Other names:
Thomas Stewart Baker
Birth date:
20 January 1934
In the DWU
Main roles:
Fourth Doctor
The Curator
Main jobs:
Actor
Main time period active:
Career highlights
Notable non-DWU work:
Little Britain
Interview

04:10

Doctor Who Robots of Death Event - Tom Baker on being Doctor Who

Another interview

01:45

Exclusive -- Tom Baker talks regeneration - Doctor Who - BBC
Thomas Stewart "Tom" Baker (born 20 January 1934 Liverpool, England, UK) played the fourth incarnation of the Doctor from 1974 to 1981, beginning with an uncredited appearance at the conclusion of Planet of the Spiders, continuing from Robot to Logopolis. He later reprised the role in the thirtieth anniversary Children in Need special, Dimensions in Time and a series of audiobooks. It is the role with which he remains most associated.
Early life and career
Baker was born in Liverpool. His father, John Stewart Baker, was a sailor who was rarely at home, resulting in Tom being raised largely by his mother, Mary Jane, in her Roman Catholic faith. He left school at fifteen to become a novice monk and remained in the monastic life for six years. He left to go into the Merchant Navy, at the same time taking up acting, at first as a hobby. In 1971, he got his first big break, playing Rasputin in the film Nicholas and Alexandra (which also starred Michael Jayston, who later played the Valeyard). Other early roles for Baker included Lynch in The Mutations, Jenkin in "The Miller's Tale" segment of The Canterbury Tales, and Dr Ahmed el Kabir in a BBC television version of The Millionairess, co-starring Maggie Smith.
Tom Baker in Doctor Who
In 1974, Baker took on the role of the Doctor from Jon Pertwee. He was cast largely because of his performance as the evil sorcerer Koura in The Golden Voyage of Sinbad. Baker was working as a brick hauler on a construction site at the time, as acting jobs were scarce. Initially he was dubbed "Boiler Suit Tom" by the media, as he had been supplied with old studio set clothes to replace his modest garments at a press conference.
He quickly made the part his own. As the Doctor, his eccentric style of dress and speech — particularly his trademark long scarf and fondness for jelly babies — made him an immediately recognisable figure, and he quickly caught the viewing public's imagination. His decision to move on in 1981 was regretted by many of the programme's fans, and his incarnation is generally regarded as the most popular of the Doctors (his nearest rival not arriving until David Tennant in the 2000s).
Baker played the Doctor for seven consecutive seasons over a seven-year period, making him the longest-serving actor in the part. In The Armageddon Factor, Baker got into arguments with producers over how he should play the Doctor. Baker was furious with producers over their scripts. Yet he got along very well with Director Michael Hayes during the filming of The Armageddon Factor. Baker also got along well with Valentine Dyall. (The Black Guardian) Baker got along with John Woodvine, who played the Marshal. Baker got along with the cast, but he got very angry at the crew sometimes. He was not that hard to work with. In The Hand of Fear part four, Bob Baker and Dave Martin intentionally left the departure of Sarah Jane Smith untouched. Tom Baker and Elisabeth Sladen wrote Sarah's departure scene themselves.
When John Nathan-Turner became producer of Doctor Who in 1980, Baker, Lalla Ward and Christopher H. Bidmead all angrily protested Nathan-Turner's decisions to take Doctor Who in a different direction. Baker never liked Nathan-Turner. Tom Baker also disliked Matthew Waterhouse and Janet Fielding, although the three became friends years later.
In 1980 he married Lalla Ward who had co-starred in Doctor Who (playing his assistant Romana) with him for two years — their marriage lasted only sixteen months. In 1985, Baker married Sue Jerrard, who had been an assistant editor on Doctor Who. They moved to a converted school in Maidstone, Kent where they kept lots of cats before emigrating to France in 2002.
In 2013, Baker returned to Doctor Who for the show's 50th anniversary episode "The Day of the Doctor," in which he played the cameo role of the Curator, a mysterious figure who has chosen to revisit some of his favourite incarnations.
Post-Doctor Who career
Baker has played character parts on television (including Captain Redbeard Rum in the second series Blackadder episode "Potato" (1986) and Puddleglum in the BBC's production of The Chronicles of Narnia: The Silver Chair (1990) and radio (including John Mortimer Presents the Trials of Marshall Hall (1996) in which Baker played Britain's most celebrated criminal barrister, Sir Edward Marshall Hall). On television, he also had a significant role in one episode of The Life and Loves of a She-Devil (1986) as Father Ferguson. In 1982 he played Sherlock Holmes in the BBCs four part TV adaptation of The Hound of The Baskervilles, with Terence Rigby as Dr Watson, and he also appeared in an episode of ITV's Jemima Shore Investigates, namely Dr Zeigler's Casebook as Dr Norman Zeigler in 1983.
The popularity of Doctor Who in the US in the mid-1980s led to some work on American television, including the roles of Sir Guy de Gisbourne in The Zany Adventures of Robin Hood, with George Segal and Morgan Fairchild, and a renegade Interpol agent in an episode of Remington Steele.
Baker continued some involvement with Doctor Who in the early 80s, recording audio book versions of several novelisations, including Doctor Who and the State of Decay and Doctor Who and the Brain of Morbius.
Prior to leaving Doctor Who he had also hosted the ITV children's literature show The Book Tower (1979/80). He became mostly known, however, for doing advertising voiceovers. Baker's distinctive voice has become a gift for impressionists, and he was regularly impersonated as the Doctor by Jon Culshaw in the comedy series Dead Ringers.
In the 1990s, he played series regular Professor Geoffrey Hoyt in ITVs Medics and had a recurring role in the Vic Reeves and Bob Mortimer revival of Randall and Hopkirk (Deceased) for the BBC. (Reeves bought Baker's school house when he moved to France.) He also had a part in the 2001 BBC Radio 4 version of The Thirty-Nine Steps as Sir Walter Bullivant and narrated the BBC radio comedy series Lionel Nimrod's Inexplicable World and later Little Britain. He continues to narrate the television series of the same name.
Also in the early 2000s, it was reported that Baker was a candidate for the role of Gandalf in the Lord of the Rings films, after playing a minor role as a wise elf in the Dungeons & Dragons film.
In 2002 he also had a speaking role in the critically-acclaimed but commercial flop Hostile Waters as the Narrator.
In 2004, Baker completed filming a season of Monarch of the Glen, a BBC drama series. He played Donald McDonald, an eccentric former race car champion who, having been away since early childhood, returns home after hearing of the death of his brother Hector (who was played by Richard Briers until his departure at the end of the previous season). More recently, he voiced the role of the villain ZeeBadDee in the computer-animated film version of The Magic Roundabout, and played the role of the Captain in the Challenge TV version of Fort Boyard.
He continues to be associated with the Doctor, appearing on documentaries like The Story of Doctor Who and Doctor Who Confidential, giving interviews about his time on the programme. He has also participated in numerous DVD releases of his stories, recording commentaries with his co-stars and on-camera interviews. On the DVD release of his final stories, New Beginnings, Baker is notably candid about his behaviour in the final months of his tenure, and the reasons for his departure from the series.
Although he reappeared as the Doctor for the 1993 charity special Dimensions in Time, he had, for many years, declined to follow his successors and reprise the role for any of the audio dramas based upon the series and produced by Big Finish Productions (although he later agreed to record some for BBC Audio, and in 2010 indicated the possibility of a Big Finish production; see below). Baker had somewhat notoriously rejected reprising the role in the 1983 twentieth-anniversary special, The Five Doctors, a decision he later said he regretted. Reportedly, the cancelled reunion film The Dark Dimension, proposed for the franchise's thirtieth anniversary in 1993, would have focused on Baker. An on-screen reference to Baker's Doctor occurs in Doctor Who when Paul McGann as the newly regenerated Eighth Doctor briefly examines a scarf resembling that worn by Baker and later produces a bag of jelly babies, the sweet most associated with Baker.
In a 2005 interview regarding the series revival, Baker suggested that he be cast as the Master, an in-joke referring to his role in the original series. However, he was most likely joking (though in a later interview with Doctor Who Magazine in 2009, Baker states the idea would have been fun to explore).
Despite having been away from the role for three decades, the image of Baker as the Doctor continues to serve as a form of visual shorthand when American productions attempt to reference Doctor Who. An animated version of Baker is used in several episodes of The Simpsons that reference Doctor Who; when Paris Hilton participated in a science fiction-related skit on Saturday Night Live a few years ago, she donned the Fourth Doctor's hat and scarf in a reference to the series; and in the Family Guy episode "Blue Harvest", a Star Wars parody, the opening credits of Tom Baker's era (along with an image of Tom as the Doctor) is used as part of a joke involving jumping to hyperspace.
In 2009, an article on msn.co.uk announced that Tom Baker would be willing to reprise his role as the Fourth Doctor. This was followed by the announcement that Baker had agreed to reprise the role for a series of five audio dramas for BBC Audio under the umbrella title Hornets' Nest, which was released during the closing months of 2009. Discounting his one-off cameo in 1993's Dimensions in Time and his voice role in the 1997 video game Destiny of the Doctors, this marks Baker's first serious performance of the role since Logopolis.
Baker returned to BBC Audio in the five-part story Demon Quest in 2010, written by Paul Magrs.[1]
In March 2010, Tom Baker made a surprise posting on his website indicating he was in discussions with Big Finish about recording audio dramas for the company; reprising his role as the Fourth Doctor in full cast audio dramas.[2] Big Finish followed this, confirming they were in talks, but nothing was agreed as yet. Nicholas Briggs posted, "Tom and I have been communicating about possible projects for some time. There is really no firm news other than that, but we are both keen to make something happen. Lis Sladen, Louise Jameson and Nicholas Courtney have also expressed an interest in being involved, but no storylines have been written or approved yet and we don't anticipate anything being available before 2011."[3] On 16 March 2011, Big Finish confirmed Tom Baker would be portraying the Fourth Doctor in both the monthly series and the Lost Stories beginning in 2012.
Appearance in the Doctor Who Universe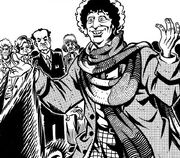 In the Doctor Who Magazine comic strip TV Action!, a villain named Beep the Meep takes the Eighth Doctor and his companion, Izzy Sinclair on a chase into an alternate universe where they end up at the BBC Television Centre where Tom Baker is taping an episode of Doctor Who. Beep mistakes Baker for the "real" Fourth Doctor and is distracted, first by terror and then by anguish from Baker's babble (all lines from real interviews with Tom Baker). Thanks to this, Beep's plans are foiled.
Miscellaneous
Baker's autobiography entitled Who on Earth is Tom Baker? (ISBN 000638854X) was published in 1997. He has also written a short fairytale-style novel titled The Boy Who Kicked Pigs (ISBN 057119771X), which has been described as "A Grotesque Masterpiece". His first book for children, The Boy Who Forgot to Grow Down, (ISBN 0099349108), was published in 1984. Another was "Never Wear Your Wellies In the House".
Several reference books published in the late 1980s erroneously reported that Baker died of a drug overdose in 1982. Baker does have a reputation, acknowledged in his autobiography, of being a heavy drinker like fellow Doctor actor William Hartnell, and sometimes makes humorous reference to it. In response to the numerous inquiries he gets about his time as the Doctor he often replies, "You will have to excuse me but I was drunk at the time." The confusion over the 1982 date of death arises from the death of an American named Tom Baker who died of a drug overdose that year. (That Tom Baker was the friend of another famous drinker, Jim Morrison, lead singer of The Doors.)
In 1983, the BBC made a 90 minute Doctor Who special entitled The Five Doctors. Baker declined to return to play the Fourth Doctor as he felt it was too soon to return to the programme. (His absence from the special inadvertently lent credence to the mistaken reports of his death.)
Baker had a brief foray into the world of music, providing the monologue to the track Witness to a Murder (Part Two) on the album Six by Mansun. He has also done voice work for the video games Perfect Dark (2000) and Ecco the Dolphin: Defender of the Future (2000).
In 1972 he appeared in an edition of the American talk variety programme The Tonight Show with Johnny Carson. This predated his Doctor Who involvement; he appeared in regards to his recent appearance in Nicholas and Alexandra. His appearance marked the first time one of Doctor actors had made a major appearance on an American TV programme.
Tom Baker is not directly related to Colin Baker, who played the Sixth Doctor in Doctor Who. According to a magazine special published by Radio Times magazine in 1983 to honour Doctor Who's twentieth anniversary, Jackie Lane, who played Dodo Chaplet on the series in the 1960s, was Tom Baker's agent for a time, and has been credited with getting Baker the audition for Doctor Who.
In 1981, the new wave pop group Human League released a tribute song to the actor entitled "Tom Baker", found on their Travelogue album.
In a poll published by BBC Homes and Antiques magazine in January 2006, Baker was voted the fourth most eccentric star, being beaten by quirky Icelandic singer Bjork, UK boxer Chris Eubank, and alien-conspiracy theorist David Icke.
When former Doctor Who producer Barry Letts (the man who cast Baker in the role he's most famous for) passed away, Baker gave a eulogy at the funeral.
The 2010 DVD release of Underworld includes several minutes of raw studio footage. Included in this footage is a candid moment where Baker is heard talking to Louise Jameson and another actor about his wish that he had been born in the late 1800s so he could have taken part in the silent film era; he also expresses a particular fondness for Buster Keaton.
External links
Footnotes