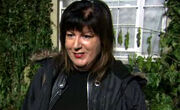 Tracie Simpson was the production manager for many episodes of the first four series of BBC Wales Doctor Who.
She was the producer on the last three specials and was one of the producers for series 5. [1]
She had an uncredited on-screen cameo when her hand was filmed retrieving the Master's ring in Last of the Time Lords. The identity of the actual character retrieving the ring was the subject of much speculation until it was revealed to be Miss Trefusis, played by Sylvia Seymour.
During the early Peter Capaldi era, she was line producer on various episodes of the show.
She was the production executive for the Class episode For Tonight We Might Die.
Production manager
Edit
Line producer
Edit
Production executive
Edit
External links
Edit