Twilight's End was the seventeenth short story in the Short Trips anthology Short Trips: Defining Patterns. It was written by Cavan Scott and Mark Wright. It featured the Seventh Doctor and Nimrod.
The Doctor enters the Forge. Several times security guards try to stop him, but the Doctor soon realises that he is being herded somewhere — doors close behind him and open ahead of him.
He finally encounters Oracle, who doesn't want to let him in, so the Doctor uses his sonic screwdriver.
The Doctor finds a man connected to Oracle and realises it is Nimrod. The Doctor, appalled by what Nimrod has done, offers him a choice — he gives him a syringe with the Twilight cure. Nimrod can decide whether he wants to cure himself or not.
Characters
Edit
References
Edit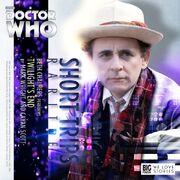 Continuity
Edit
Ad blocker interference detected!
Wikia is a free-to-use site that makes money from advertising. We have a modified experience for viewers using ad blockers

Wikia is not accessible if you've made further modifications. Remove the custom ad blocker rule(s) and the page will load as expected.