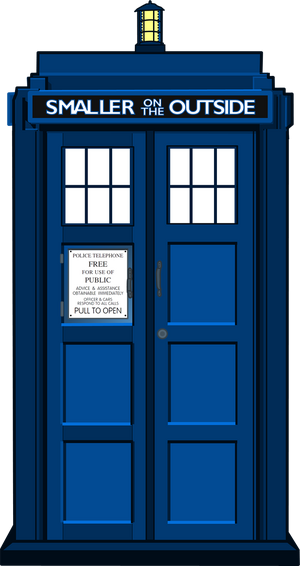 My name is
SmallerOnTheOutside.
You may call me
SOTO
.
I edit all around, but the kind of editing that I most enjoy is creating "from the real world" articles. You'll find work of mine in that field on pages such as pub, pen, pencil, wood, space suit and glass. I'm especially proud of my in-depth rain. I also enjoy researching the going-ons behind the scenes; some of my work in that field you will (eventually) find in production days.
I am also currently working on a huge project, which I like to call "day of the year article clean-up". Once I'm finished with that, I plan on starting a new project: either pages for incidental music, or for filming locations. Or — who knows — I can do both!
While I haven't truly been here for very long (only Template:Number table sorting/positive346 days), I have been very active during my brief span here. I've been here long enough to be sufficiently well-versed in policy and other matters to answer most questions in place of an admin, should one not be present. Obviously, go to an admin instead whenever possible.
Remind me to add date info from...
Edit
Classic series
Edit
90s novels
Edit
Short stories
Edit
New Series Adventures
Edit
Big Finish
Edit
IDW Publishing
Edit
Doctor Who Magazine
Edit
---
Other reminders:
Edit
---
Today in Doctor Who history Edit
On 8 December 1926, the Tenth Doctor and Donna Noble met Agatha Christie. Agatha went missing for the next ten days. (TV: The Unicorn and the Wasp)
In 1952 London, the Third Doctor and Sarah Jane helped clean up in the aftermath of the previous day's defeat of a Xhinn invasion fleet. Tommy Ramsey helped to knit his local London community together after the violence of the past several days. The Doctor and he shook hands in front of St Luke's Cathedral, and were photographed. This photograph later attracted the Doctor's attention, causing him to come to 1952 London several days earlier. (PROSE: Amorality Tale)
In 1980, John Lennon was assassinated by Mark David Chapman in New York City. Massive crowds took to the streets in mourning. One such mourner, Cristián Alvarez, met the Seventh Doctor, Ace and Benny for one of several times in his life. (PROSE: The Left-Handed Hummingbird)
In 2006, around three weeks into its voyage around the Earth that had begun on the 14th, the SS Elysium passed by the Tropic of Capricorn. (PROSE: Iceberg)
In 6064, Sir Lee Marks died, starting a minor power struggle over who would be his successor as the head of the charitable Ellershaw Foundation. (PROSE: Heritage)