Welcome aboard!
Welcome to the TARDIS Index File. We only take the best! Here are a few good links for newcomers: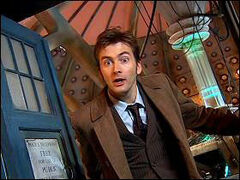 Remember that you should always sign your comments on talk and vote pages using four tildes like this: ~~~~ , or use the button above the edit space that looks like a signature.
We hope you enjoy editing here and being a member of the TARDIS crew! If you have any questions, see the Help pages, add a question to one of the Forums or ask on my talk page. -- Doug86 (Talk) 15:10, December 26, 2010
Doctor Who Mistakes
Edit
In the episode A Christmas Carol, the Doctor said there was no such thing as Isomorphic controls, but in the episode The Sound of Drums he clearly saw that The Master's Laser Screwdriver was Isomorphic. So what's going on? Memory loss?
Your input is needed!
You are invited to join the discussion at Forum:Can we disable visual editor please?.

czechout
 ☎ ✍ 04:14: Tue 20 Dec 2011 
Your input is needed!
You are invited to join the discussion at Forum:Can we disable visual editor please?.

czechout
 ☎ ✍ 18:16: Thu 22 Dec 2011 
Image deletion
Edit
I assume you're referring to File:Keep Calm.jpg? It was untagged with no licensing on the image.
When you upload images there are several notices informing you of what to do when uploading, near the bottom, just above the "upload" button there is a notice that states "you must choose the most appropriate license from this list".
For future reference if uploading a user image for use on your user page, please keep in mind our Tardis:User image policy.
Additionally, your signature appears broken, as your signature should link back to your user name, at the moment it doesn't. --Tangerineduel / talk 03:47, November 11, 2012 (UTC)
Spoiler caution
Edit
Hi! I want to direct your attention to Thread:126489. It states very clearly that we will not allow any spoilers for the upcoming 50th anniversary. Your edit was removed from the Series 7 page. That page is for info about Series 7 only. Thanks! Shambala108 ☎ 19:35, April 18, 2013 (UTC)
Christmas cheer
Edit
Happy holidays!
As this fiftieth anniversary year comes to a close, we here at Tardis just want to thank you for being a part of our community — even if you haven't edited here in a while. If you have edited with us this year, then thanks for all your hard work.
This year has seen an impressive amount of growth. We've added about 11,000 pages this year, which is frankly incredible for a wiki this big. November was predictably one of the busiest months we've ever had: over 500 unique editors pitched in. It was the highest number of editors in wiki history for a year in which only one programme in the DWU was active. And our viewing stats have been through the roof. We've averaged well over 2 million page views each week for the last two months, with some weeks seeing over 4 million views!
We've received an unprecedented level of support from Wikia Staff, resulting in all sorts of new goodies and productive new relationships. And we've recently decided to lift almost every block we've ever made so as to allow most everyone a second chance to be part of our community.
2014 promises to build on this year's foundations, especially since we've got a full, unbroken series coming up — something that hasn't happened since 2011. We hope you'll stick with us — or return to the Tardis — so that you can be a part of the fun!

Spoilers
Edit
Hey. As you were told in Thread:150430, no spoilers of any kind of unreleased stories may be posted anywhere on the wiki except The Howling. This includes the file namespace.
Please read through Tardis:Spoiler policy — files may not be uploaded that spoil stories in any media pre-release. An image of Capaldi's future costume — a promotional image, no less, which is already frown upon by T:IPER — most certainly goes under spoilers, and as such File:12promo.jpg has been deleted. You see, all new files are instantly viewable on the right rail, so — no matter where you planned on putting that image, even in the Howling — anyone could see it. Please do not reupload it, at least until Twelve's first story in that attire is released.
--SOTO (☎/★ ♆) 17:57, January 28, 2014 (UTC)
Spoiler policy
Edit
Hi! I came across your post at Tardis talk:Spoiler policy, and as it's not really a matter for that talk page, I decided to answer your questions here.
There are lots of reasons for our spoiler policy, as spelled out on the page itself and as stated in various places on the wiki. However, these reasons pretty much boil down to two facts:
Anything that hasn't happened yet is subject to change. It's far easier to wait for something to be published and then post it as published, rather than to go back and make changes because some source was in error. See Forum:Why we sometimes protect article creation: the curious case of Dorium Maldavar for an interesting example of this kind of thing.
We want everyone to be able to use this wiki. That necessarily includes people who don't want to be spoiled. These users should be free to go anywhere on the wiki except areas as stated in the spoiler policy. As User:SmallerOnTheOutside posted above, uploaded images are pasted on every page on the wiki and are therefore visible everywhere.
I think the biggest problem is users' understanding of what this wiki is. You stated, "Wikias are databases and as soon as new information is discovered you add it to a database." Actually, wikis are what the users make of them. It was decided (long ago) that this wiki would be an encyclopedia of the DWU. We cover a huge amount of info on the DWU — there is really nothing out there like this site (and I've looked, believe me). We just choose, for the two basic reasons I stated above, that we will only cover stuff that is confirmed to have happened.
I hope this addresses some of your concerns. Thanks. Shambala108 ☎ 15:35, February 14, 2014 (UTC)
Minor edits
Edit
Regarding your recent edit at Sarah Jane Smith, per Tardis:Edit summary, any edit that adds or removes content shouldn't be marked as minor. Minor edits are those that fix spelling, punctuation, etc. Thanks. P&P talk contribs 20:47, September 12, 2014 (UTC)