Welcome to the

JarodMighty!
We hope you'll enjoy being a part of our community! If you're new to either us or wiki editing in general, you might want to check out some of these links: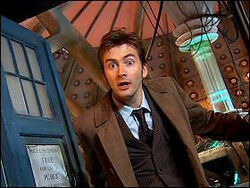 Remember that you should always sign your comments on talk and vote pages using four tildes like this:
~~~~
Thanks for becoming a member of the TARDIS crew! If you have any questions, see the Help pages, add a question to one of the Forums or ask on my user talk page.
infobox pictures
Edit
I have noticed that you have put a few images in the infobox at 300px in size, please note that all infobox images must be 250px, as agreed in our Manual of Style. Thank you, and keep up the good work! Mini-mitch\talk 15:04, June 10, 2011 (UTC)
Your input is needed!
You are invited to join the discussion at Forum:Can we disable visual editor please?.

czechout ☎ ✍ 17:40: Tue 20 Dec 2011 
I notice that you have added many categories to images that do not belong. MANY. I must note, if you do not see the word "images" in a category, then it does not belong on a picture. Please remove the categories from the iamges that you have added. OS25 (talk to me, baby.) 23:39, April 10, 2012 (UTC)
That's fine, just add Category:The End of Time TV story images to the image, not something like Category:Gallifrey. Also make sure your signature had a link to your talk page and user name. OS25 (talk to me, baby.) 13:37, April 11, 2012 (UTC)
When uploading image you must select a license tag from the drop down menu, i.e. screenshot etc. Also, please refrain from adding promotional images, such as you Silver Cloak image was, to pages. All images on in universe page should be screenshots. Thanks. MM/Want to talk? 12:19, April 11, 2012 (UTC)
Further problems
Edit
Okay, where to start...
A) No publicity photos. B) You can only have THREE pictures on your user page. You presently have 7. C) Do NOT place images above the info box. D) As MM mentioned above, please add copyright templates. E) Please use only apropriet images. OS25 (talk to me, baby.) 14:25, April 11, 2012 (UTC)
Categories
Edit
Hi. Please don't add any categories to images. Take a look around the wiki and see how pages and images function in relation to images only when you've looked and read and more importantly understood how pages, images and categorisation functions on this wiki consider adding categories to them. Thanks. --Tangerineduel / talk 14:42, April 11, 2012 (UTC)
Pictures on user page
Edit
Yes, and as I said, only 3 are allowed per user. You presently have 2, so I suggest you choose the last wiselsy or replace some of the earlier onces. Also remember to add the pull-down template for user copyright. OS25 (talk to me, baby.) 15:50, April 11, 2012 (UTC)
User page
Edit
Please note that Users are only allowed up to three images on their talk page. This is written down in out User image policy. If you do not removed the image, an admin will removed as many as they need to to keep within the policy. MM/Want to talk? 11:02, May 2, 2012 (UTC)
It's been a week. You have not removed images to meet the maximum amount (three). You have one last chance, before I remove and delete images so as to meet this policy. Thanks. MM/Want to talk? 07:44, May 9, 2012 (UTC)

Firstly, you were told about it a week ago and you decided to ignore me and send me spam. Secondly, I have no idea what your own about. Third, just removed the images from you page, only admins can delete images, I will get round to deleting the images at some point. Lastly, you have now sent me three spam site. Please stop sending spam links to people, even if you think they are helpful. MM/Want to talk? 12:53, May 9, 2012 (UTC)
Please remove all images on your User page. You can only have a maximum of three. MM/Want to talk? 13:01, May 9, 2012 (UTC)
I apologise
Edit
I would like to apologise for the misunderstanding of the policy above. I ahev been reading the policy wrong (and not to make excuses, so have other admins and Users).
You may only have three User images on your page - these images are images you upload that are specially for your User page and can only be on your User page. This would be photos you have taken, fan art etc.
With Screenshots, it images that can be used elsewhere on this wiki, as you had, you can have as many as you like.
I am so very so sorry for my misunderstand any an inconvenience this has caused. My thanks. MM/Want to talk? 14:18, May 10, 2012 (UTC)
PNG and JPEG
Edit
According to Forum:Tech note: Image use policy change, it's established we don't need ridiculously big images (in filesize or dimensions) in PNG format, as the only intent of images is to see them at thumbnail size, and for people with slower computers, it pointlessly increases the loading time. Even the tech notes admit that it's in many cases better, but it's not useful in the same way that it may be for a PNG or SVG line drawing. I'm not a techy guy, I was just following what the admins put in T:ICC. -- Tybort (talk page) 17:38, May 17, 2012 (UTC)