Welcome to the

NileQT87
Tardis manual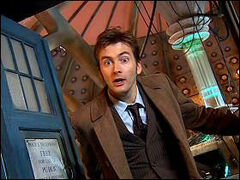 Welcome to the Tardis!
Things with the same name
Thanks for your recent edits! We hope you'll keep on editing with us. This is a great time to have joined us, because now you can play the Game of Rassilon with us and win cool stuff! Well, okay, badges. That have no monetary value. And that largely only you can see. But still: they're cool! We've got a couple of important quirks for a Wikia wiki, so let's get them out of the way first.
British English, please
We generally use British English round these parts, so if you use another form of English, please be sure you set your spell checker to BrEng, and take a gander at our spelling cheat card.
Spoilers aren't cool
We have a strict definition of "spoiler" that you may find a bit unusual. Basically, a spoiler, to us, is anything that comes from a story which has not been released yet. So, even if you've got some info from a BBC press release or official trailer, it basically can't be referenced here. In other words, you gotta wait until the episode has finished its premiere broadcast to start editing about its contents. Please check the spoiler policy for more details.
Other useful stuff
Aside from those two things, we also have some pages that you should probably read when you get a chance, like:
If you're brand new to wiki editing — and we all were, once! —  you probably want to check out these tutorials at Wikipedia, the world's largest wiki:
~ ~ ~ ~
Thanks for becoming a member of the TARDIS crew! If you have any questions, see the Help pages, add a question to one of the Forums or ask an admin.
Wikipedia
Edit
Please do not add links to wikipedia on articles, if it is a page on this wiki that has not been created please leave the link red and the page will be made at some point in the future. Revanvolatrelundar 17:02, December 19, 2010 (UTC)
Categories removed
Edit
Also ive been noticing that the categories on Jamie McCrimmon's page are removed after your edits, if you are unaware of why this is happenning then i apologise but it takes a while to find the correct categories again. Revanvolatrelundar 17:06, December 19, 2010 (UTC)
example of the template
Edit
Here is an example of what i mean: Mohandas Gandhi, this page includes all Doctor Who relevent information while providing a link to Wikipedia for further info. Revanvolatrelundar 18:06, December 19, 2010 (UTC)
Please write from an in-universe point of view
Edit
On 24 September, you rewrote the lead of Jamie McCrimmon in a fundamental way. You changed it from a lead which was in-universe to one that was out of universe. Your changes included the following phraseology, all of which is disallowed by our policies:
...was the longest-serving companion to travel with the Second Doctor, the longest-serving male companion and was in the most individual episodes of any companion on the parent show.
This is all information which belongs only in the out-of-universe section of articles. If you were writing an article on Wikipedia, this would have been an appropriate edit for the lead, because Wikipedia is written from a strictly out-of-universe point of view. Our encyclopedia, however, has a firmly in-universe perspective.
If you have made similar changes recently to other articles, I urge you to please go back and correct them.
Thanks :)
czechout ☎ ✍ 02:01: Mon 17 Oct 2011 
Cosmic Fugue
Edit
Please do not add Cosmic Fugue links anywhere on this wikia. They are fanon stories which are distributed at fan conventions and do not abide by Tardis:Canon policy. Thanks. --Revan\Talk 16:46, January 16, 2012 (UTC)
Categories
Edit
Yes, but the Second Doctor met and worked along The Sixth in TV: The Two Doctors. Every "allies" are not "categories," as why they are separate categories. All of such edits I made are based off of , and are not in any way "out-of-control," and any you removed I shall now re-add. OS25 (talk to me, baby.) 19:06, January 24, 2012 (UTC)
I never took out the Sixth Doctor. I specifically left that in on Jamie's page (if you haven't noticed, I'm rather familiar with him). However, please do tell me just when he worked with the First, Third, Fourth, Fifth, Seventh and Eighth Doctors (really, I'd love to know what Short Trips and such these are), because that's what you have been putting in. And it's not just Jamie's page, but a whole list of companions/allies (Peri, Winston Churchill, Ace, etc...) that are now having every Doctor added as an ally. That is out-of-control category adding, IMO, if they never appeared in any stories with those Doctors! NileQT87 talk to me 18:23, January 25, 2012 (UTC)

Now, those categories were added when The Brilliant Book 2011 was still featured as a source on the wiki. I personally removed all references to it when we decided against it, but I forgot to remove those. So I understand those being removed. For the record, you'll find the page had refernces to the book when I added those.
I don't know which story it is, but I'll look for it, but until then it's in OS25 (talk to me, baby.) 19:46, January 25, 2012 (UTC)
I can find it later, but I'm kinda busy right now... Learning about waves and what not...OS25 (talk to me, baby.) 19:55, January 25, 2012 (UTC)

Actually, the BB2011 categories I was referring to above we're for Winston Churchill, not Jamie McCrimmon. I'm looking for the ST story now. OS25 (talk to me, baby.) 23:19, January 25, 2012 (UTC)
Okay, all f the categories were either from PROSE: The Eight Doctors or PROSE: Categorical Imperative. OS25 (talk to me, baby.) 00:03, January 26, 2012 (UTC)
Category dispute
Edit
You seem to be having a dispute with User:OttselSpy25 and user:Mini-mitch over the proper application of the nebulous "Allies of"/"Enemies of" categories. I think you have behaved conscientiously up to this point, in that you've made sure to leave both edit summaries and messages on people's talk pages, where warranted. Please continue to abide by our discussion policy and please don't re-delete the categories that have now been re-added by user:OttselSpy25. Instead, I encourage you to start a forum thread at forum:panopticon to bring more editors into the discussion.
Be aware that multiple reversions of the same act of editing can lead to blocking. There's no reason we even need to get close to that number.
czechout ☎ ✍ 20:50: Tue 24 Jan 2012 
Rumple to exspAin
Edit
Well, you see I meant Reven,and I forgot to look to see when it was written, for I thought it was written after you had removed categories... No hard feeling, for the record, I think we do need to look over the "allies" categories, to more better exsplain what qualifies as an allie... Sorry for the trouble! ;) OS25 (talk to me, baby.) 18:55, January 25, 2012 (UTC)
You've left a message on my talk page that has nothing to do with me. I am not an active participant in your dispute with user:mini-mitch and user:OttselSpy25. I am just a neutral observer, who hasn't edited categories at the heart of your dispute. Your comment seemed directed at one of the two of them, so it was placed on the wrong talk page. Be aware that they will not have received your input.
czechout ☎ ✍ 15:34: Thu 26 Jan 2012 

Multi-Doctor stories Category:Multi-Doctor stories
When ever I change an image, it is either that:
Oh, and why would you think I have a vendetta against you? We had a misunderstanding once, no biggie. I actually admire your care and hard work on Jamie's page. And, yes, I have been trying to improve picture quality on many pages. I think it's best to have a vararity of good-quality images.
Oh, and when leaving a message on a talk page, it is a good idea to put your message at the bottom so that the user you talk to doesn't have to go on a wild goose chase to find your message. Also, I don't understand why you put it under Czech's message about cropping images better and colour correction. Did you feel like that that was similar to your message? OS25 (talk to me, baby.) 03:59, March 8, 2012 (UTC)
Promotinoal images and missing episodes
Edit
You're talking about a lot of different policies here, so I'll try to pick out everything I see.
Let me start with two philosophies of administration.
First of all, I direct you to T:IUP ADMIN. This rule simply states that the existence of things which break a rule do not mean that the rule itself isn't applicable. It only means that something has escaped our notice. If file:10pic.jpg is indeed a promo shot, then it should be removed. But on the face of it, it doesn't look like a promo, so no one's been encouraged to compare it against the actual frames of The End of Time. Until now. So, thanks for the heads up.
Second, any proposals to change or create policy have to be specific and actionable. Just saying "this rule needs to mellow out" isn't quite clear enough. You have to propose something that all admin can understand and act upon equally. "No promotional images" has wide support, because it's completely understandable. "No promotional images, except for those NileQT87 thinks are important and in-character from missing episodes" is, well, damned vague.
Now, onto the specifics.
Promo shots
Edit
The problem with allowing promotional pictures, especially from missing episodes, is that people will think those images actually are in the episdode. And we don't want to give that false impression. With missing episodes, this is an especial concern, because we could easily give the impression that something exists, when it actually doesn't. Publicity shots in and of themselves are allowed on the wiki, but they have to be used in a very careful way. They can only be used on out-of-universe pages, or in behind the scenes sections. A correct example of their use in BTS sections can be found at Varga plant.
They can also be used on story pages, but they have to be used in a particular way. They can't be in the infobox, synopsis or plot section. They have to be placed somewhere lower, usually in the "notes" section, where you can clearly label them "publicity shots". And no, not a gallery of them, cause this violates T:GAL. If there's something that is particularly noteworthy about the story, I could see putting in a publicity shot in the notes section as long as you clearly labelled it a publicity shot. This has been done at Galaxy 4, for instance.
In other words, the key to using publicity images are:
Clarity of thumbnails
Edit
The thing that's important, but hard, to remember is that most people do not see the wiki as we do. We're editors. We're constantly zooming out pictures. We're used to how those pictures look in full size in Photoshop, because we're the ones who uploaded them.
But the average person using the site doesn't zoom the pictures, either out of lack of will, or — since about 20% of Wikia traffic is actually from phones these days — because they simply can't. So we do have to primarily consider the pictures as they look at thumbnail level.
I'm not saying you can't get a two-shot — or at a push a three shot — but it's gotta be super, super clear. If you're talking about that four shot from The Two Doctors that I recently removed from Jamie McCrimmon, it was in no way clear at thumbnail level. It required zooming out to make any sense of it. There are plenty of closeups of Peri/Jamie or Six/Jamie in that serial to choose from which will demonstrate the visual point you're trying to make, but do so in a much bolder way at thumbnail level. You don't need a four-shot, when a tight two-shot is available and will do the job better.
czechout ☎ ✍ 13:36: Mon 23 Apr 2012