Welcome aboard!
Welcome to the TARDIS Index File. We only take the best! Here are a few good links for newcomers: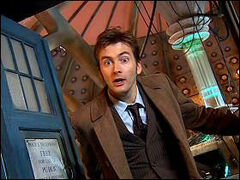 Remember that you should always sign your comments on talk and vote pages using four tildes like this: ~~~~ , or use the button above the edit space that looks like a signature.
We hope you enjoy editing here and being a member of the TARDIS crew! If you have any questions, see the Help pages, add a question to one of the Forums or ask on my talk page. -- Doug86 (Talk) 00:47, December 9, 2010
Your input is needed!
You are invited to join the discussion at Forum:Can we disable visual editor please?.

czechout ☎ ✍ 22:16: Tue 20 Dec 2011 
I seem to have some problems with some of these buttons at the moment, so I am using this method to explain to you why I have undone your revision. While it is true that other actors have played the character under conditions in which the character is given a different name -- "Melody Pond" or "The Little Girl", they are all the same character; one which we have chosen the page-name of "River Song" for, even though we note other appellations elsewhere, starting with the first line of the article in which we note that her name is -- quoting from memory -- "Melody 'Mels' Pond' later River Song." If you will look at the talk page, you will see a long and grouchy discussion of what we should call this character. You may wish to review it.
You may notice that in the body of the article, I have attempted to write it so the character is referred to by what she was called in the episode -- and have titled one heading as "Becoming River Song".
I think it likely that this will not entirely please you. It does not entirely please us. Nonetheless, we have reached a sort of concensus. I ask you to honor it until it changes drastically. Boblipton talk to me 22:59, April 1, 2012 (UTC)
Thanks for forwarding it. Boblipton talk to me 00:18, April 2, 2012 (UTC)