Welcome to the
WarGrowlmon18
Tardis manual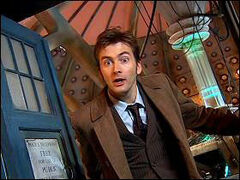 Welcome to the Tardis!
Things with the same name
Thanks for your recent edits! We hope you'll keep on editing with us. This is a great time to have joined us, because now you can play the Game of Rassilon with us and win cool stuff! Well, okay, badges. That have no monetary value. And that largely only you can see. But still: they're cool! We've got a couple of important quirks for a Wikia wiki, so let's get them out of the way first.
British English, please
We generally use British English round these parts, so if you use another form of English, please be sure you set your spell checker to BrEng, and take a gander at our spelling cheat card.
Spoilers aren't cool
We have a strict definition of "spoiler" that you may find a bit unusual. Basically, a spoiler, to us, is anything that comes from a story which has not been released yet. So, even if you've got some info from a BBC press release or official trailer, it basically can't be referenced here. In other words, you gotta wait until the episode has finished its premiere broadcast to start editing about its contents. Please check the spoiler policy for more details.
Other useful stuff
Aside from those two things, we also have some pages that you should probably read when you get a chance, like:
If you're brand new to wiki editing — and we all were, once! —  you probably want to check out these tutorials at Wikipedia, the world's largest wiki:
~ ~ ~ ~
Thanks for becoming a member of the TARDIS crew! If you have any questions, see the Help pages, add a question to one of the Forums or ask an admin.
Why did you remove the Snowman info from Sardicktown. I see your explanation was "Stop the Vandilism". Also you reverted my edits on Aplan Mortarium. Have you read Tardis:Manual of Style? Please explain your edits--Skittles the hog 20:06, January 1, 2011 (UTC)
Vandalism
Edit
Please do not add out of universe sections. Also, do not revert edits to remove such content. Thanks--Skittles the hog--Talk 19:36, January 7, 2011 (UTC)
Your input is needed!
You are invited to join the discussion at Forum:Can we disable visual editor please?.

czechout
 ☎ ✍ 07:41: Wed 21 Dec 2011 
Christmas cheer
Edit
Happy holidays!
As this fiftieth anniversary year comes to a close, we here at Tardis just want to thank you for being a part of our community — even if you haven't edited here in a while. If you have edited with us this year, then thanks for all your hard work.
This year has seen an impressive amount of growth. We've added about 11,000 pages this year, which is frankly incredible for a wiki this big. November was predictably one of the busiest months we've ever had: over 500 unique editors pitched in. It was the highest number of editors in wiki history for a year in which only one programme in the DWU was active. And our viewing stats have been through the roof. We've averaged well over 2 million page views each week for the last two months, with some weeks seeing over 4 million views!
We've received an unprecedented level of support from Wikia Staff, resulting in all sorts of new goodies and productive new relationships. And we've recently decided to lift almost every block we've ever made so as to allow most everyone a second chance to be part of our community.
2014 promises to build on this year's foundations, especially since we've got a full, unbroken series coming up — something that hasn't happened since 2011. We hope you'll stick with us — or return to the Tardis — so that you can be a part of the fun!

Twelfth Doctor
Edit
Hi! I wanted to explain why your edit to Twelfth Doctor has been removed twice. Character pages, especially Doctor and companion pages, only need a paragraph per story. They don't need long detailed plot descriptions. That's what the story pages are for. If a user reads a character page and wants to know more about the story, they can click on the story page. That's what a wiki is for.
In addition, it was written in the present tense, and since you've been here for quite a long time, you should know by now that all in-universe articles are written in the past tense.
Finally, if a user's edits take too much work to fix, it is perfectly fine for an admin to remove it completely and ask for a rewrite. It is not the job of any user, even admins, to clean up after other users. I've pointed you towards what you need to do to fix your edit, and you should be able to work from there. Thanks. Shambala108 ☎ 15:47, September 21, 2014 (UTC)
Spelling
Edit
Hi! Please note that we use British spelling on this wiki, as explained at Tardis:Spelling. You can find the more common differences at Tardis:Spelling cheat card. Thanks! Shambala108 ☎ 01:47, July 20, 2015 (UTC)
Oh. Not British (I'm American) so I don't really know the difference.--WarGrowlmon18

☎

02:21, July 20, 2015 (UTC)
Page moves
Edit
Hi! Please note that, per Thread:128198, non-admins are not permitted to move pages. Thanks. Shambala108 ☎ 05:09, December 6, 2015 (UTC)
Okay. I actually created that page minutes before and simply thought of a better title.--WarGrowlmon18

☎

05:10, December 6, 2015 (UTC)
Runaway Bride
Edit
I not sure what the deal is. It's just the way I edit. I admit, if I will sometime fire on the inuse tag, if I feel the need for it. Usually this would be for pages that have virtually information, because there will be plenty to add. The inuse tag means I just keep the page in edit more without the fear of an edit clash.
I never because I didn't feel it warranted it. It was a mere handful of edits I made. Nothing much. MM/Want to talk? 20:47, February 14, 2016 (UTC)
Really??? Hmmm... let's see... I count at least 15 edits before I got sick of clicking New Edit. That's way too much when its all one sentence things and throws the whole editing process off. You can't do that, particularly if they're just one sentence things. Its not like your making huge posts, no these are just tiny one sentence additions. You could be blocked for that. You keep that up I will petition to block you.--WarGrowlmon18

☎

21:36, February 14, 2016 (UTC)
Please, for the sake of discussion, just post your reply on my talk page. Don't post in both, I don't follow User's talk pages. It makes it easier for any future reference. Secondly, I still don't see why its such a big deal. You may also want to look back at the edit history of several pages (Meat (TV story) and Series 3 (Torchwood) spring to mind.) My edit patter was the same back then as it is now. I was an admin when I made those edit and I'ms till an admin now, and there's been no policy written saying I can't edit the way I did. Lastly, please don't threat me.It can be seen as personal attack. Adding to this, I actually can't be blocked for editing the way I did, I'm sorry to say. Please read our blocking policy for more information. Thanks. MM/Want to talk? 22:02, February 14, 2016 (UTC)
Re: Twelfth Doctor
Edit
Page is now protected, and the IP user is blocked. Shambala108 ☎ 01:46, June 9, 2016 (UTC)