Ad blocker interference detected!
Wikia is a free-to-use site that makes money from advertising. We have a modified experience for viewers using ad blockers

Wikia is not accessible if you've made further modifications. Remove the custom ad blocker rule(s) and the page will load as expected.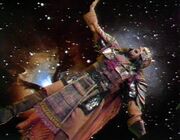 A vacuum was a volume that was virtually empty of matter. The most commonly known was that of space. Most life forms could not survive in a vacuum for very long.
Vacuum survival
Edit
There were, however, those who were able to survive in the vacuum of space for extended periods of time or even indefinitely.
Time Lords could survive in a vacuum for limited periods. (TV: Four to Doomsday, The Doctor, the Widow and the Wardrobe, GAME: TARDIS)
Daleks, (TV: The Parting of the Ways) Cybermen, (TV: The Moonbase) Olympians, (COMIC: The Life Bringer) Sensorites, (TV: The Sensorites) and star whales (TV: The Beast Below) were all capable of indefinite survival in a vacuum.
Wirrn could live within a vacuum for a period of years. (TV: The Ark in Space)
Toby Zed was able to survive in a vacuum whilst possessed by the Beast. (TV: The Impossible Planet)
Rutans could survive in a vacuum indefinitely. (PROSE: Shakedown)
Vacuum deaths
Edit
Katarina sacrificed herself to help the First Doctor and was blown out into space along with Kirksen. (TV: The Daleks' Master Plan)
Varan was killed in the vacuum of space after the Marshal of Solos destroyed a wall of his Skybase. (TV: The Mutants)
Lynda Moss was killed when Daleks broke the barrier between her and space. (TV: The Parting of the Ways)
Scooti Manista was killed in the vacuum when Toby Zed, possessed by the Beast, broke open one of Sanctuary Base 6's outer walls. (TV: The Impossible Planet)
The Chief Steward on the Titanic spaceship was blown out into space after accidentally opening a door to the outside following a meteorite strike on the spaceship. (TV: Voyage of the Damned)
Ahab was killed when teleported to the vacuum of space in the year 50,000 by Professor Alistair Gryffen's Space-Time Manipulator. (TV: The Bounty Hunter)