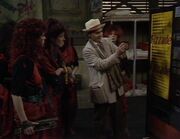 Vending machines were machines from which one could buy food and drinks. A vending machine in the Red Kang brainquarters of Paradise Towers contained Fizzade and the Seventh Doctor used it to get a drink, much to the amazement of the Red Kangs. After tasting it, Fire Escape declared the drink to be "ice hot". Soon, all the Red Kangs were using the vending machine and drinking Fizzade. (TV: Paradise Towers)
Ad blocker interference detected!
Wikia is a free-to-use site that makes money from advertising. We have a modified experience for viewers using ad blockers

Wikia is not accessible if you've made further modifications. Remove the custom ad blocker rule(s) and the page will load as expected.