Vortex Run was an online game published on the BBC's Doctor Who: Monster Invasion website. Matt Smith provides his voice for the Eleventh Doctor, giving instructions to Amy Pond.
Amy Pond and the Eleventh Doctor are on a spaceship on Kaydon 36 when the Time Vortex rips through space. The Eleventh Doctor reaches the TARDIS in time, but Amy is left on the ship and has to run for her life. The Doctor needs to teleport Amy safely back into the TARDIS.
How to play?
Edit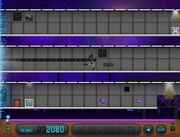 You have to use the arrow keys. Use the arrow up to teleport up to the nearest level and the arrow down to teleport down to the nearest level. The spacebar is needed to jump over obstacles. One obstacle can be hit, if you will hit more, you have to restart the level. You have to collect time crystals for bonus points and watch out for gaps in the floor.
Power-up rewards
Edit
The special codes for power-up rewards were provided in the Doctor Who: Monster Invasion magazine.
Speed-up: run faster
Jump: jump higher
Score multipler: you'll get more points if you'll collect time crystals
Second chance: get a second chance of surviving in the vortex.
Run
Hover
Slow
Characters
Edit
Connections
Edit
External links
Edit
Ad blocker interference detected!
Wikia is a free-to-use site that makes money from advertising. We have a modified experience for viewers using ad blockers

Wikia is not accessible if you've made further modifications. Remove the custom ad blocker rule(s) and the page will load as expected.