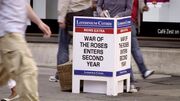 The Wars of the Roses, sometimes referred to collectively as a single War of the Roses, were a series of conflicts involving 15th century England.
Most of Chase Mansion was built during the wars. Harrison Chase thought the wars were "charmingly named, but [was] rather a bloodthirsty period in history". (TV: The Seeds of Doom)
In an alternate timeline where River Song refused to kill the Eleventh Doctor and all of history took place at the same time at 5:02pm on 22 April 2011, the War of the Roses was reported to have entered its second year. (TV: The Wedding of River Song)
Behind the scenes
Edit
Ad blocker interference detected!
Wikia is a free-to-use site that makes money from advertising. We have a modified experience for viewers using ad blockers

Wikia is not accessible if you've made further modifications. Remove the custom ad blocker rule(s) and the page will load as expected.