Ad blocker interference detected!
Wikia is a free-to-use site that makes money from advertising. We have a modified experience for viewers using ad blockers

Wikia is not accessible if you've made further modifications. Remove the custom ad blocker rule(s) and the page will load as expected.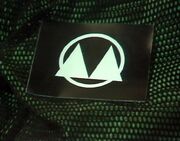 The West Lodge was a Foamasi criminal organisation. They were known for infiltrating organisations in order to get their way. They used the voice of Shistavanen game-show hosts for their communicators.
In 2290, agents of the West Lodge attempted to purchase Argolis from the Argolins, even though the Foamasi government was attempting the same thing. Eventually, the agents were captured and accidentally killed when Pangol attacked. (TV: The Leisure Hive)
Even in the 40th century, the West Lodge were still a major force in the Foamasi criminal society. (PROSE: Placebo Effect)