Whispers of Terror was the third story in Big Finish's monthly Doctor Who range.
It was the first audio to feature the line up of Colin Baker as the Sixth Doctor and Nicola Bryant as Peri Brown.
Publisher's summary
Edit
The Doctor and Peri find themselves in the Museum of Aural Antiquities, where every sound is stored for posterity — from the speeches of Visteen Krane to security service wire taps and interrogation tapes. But they also find an intruder, mysteriously changed recordings, and a dead body.
Before long the Doctor realises that there is more going on than a simple break-in or murder. How can he defeat a creature that is made of pure sound?
to be added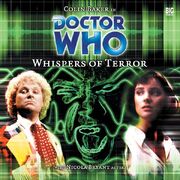 References
Edit
This story was originally released on a double cassette and double CD.
This audio drama was recorded on 17 and 18 July 1999 at The Nu Groove Studios.
Oddly, this story doesn't use either the Peter Howell or Dominic Glynn theme tunes associated with the Sixth Doctor's era, but rather the second rendition of the Delia Derbyshire theme tune used from 1967-1980.
Continuity
Edit
External links
Edit

Big Finish monthly releases
Fifth Doctor
Adric, Nyssa, Tegan
Nyssa
Nyssa, Brewster
Nyssa, Hannah
Tegan, Nyssa
Tegan, Turlough, Nyssa
Turlough
Peri
Peri, Erimem
Amy
Solo travels
All stories in the main monthly range are included in this navigation box including the "subscriber exclusive" stories which are part of Big Finish Productions' subscription service for this range. All other stories are represented in other navigation boxes.
Ad blocker interference detected!
Wikia is a free-to-use site that makes money from advertising. We have a modified experience for viewers using ad blockers

Wikia is not accessible if you've made further modifications. Remove the custom ad blocker rule(s) and the page will load as expected.