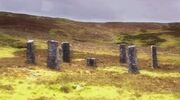 Whitebarrow was a village in Britain. The A786 was next to Whitebarrow.
Clyde Langer went on a school trip to Whitebarrow. They went there to visit a neolithic burial site, which was 3000 years old and looked like a stone circle. Later Mrs Wormwood went there to open a portal to Horath's body. However, the portal was closed when Kaagh jumped into it and took Mrs Wormwood with him. (TV: Enemy of the Bane)
Ad blocker interference detected!
Wikia is a free-to-use site that makes money from advertising. We have a modified experience for viewers using ad blockers

Wikia is not accessible if you've made further modifications. Remove the custom ad blocker rule(s) and the page will load as expected.