X-ray
Talk

0
32,719
articles in progress
This article needs a big cleanup.
This article is way too list-y. Must be converted to prose, as opposed to just a list of its uses.
These problems might be so great that the article's factual accuracy has been compromised. Talk about it here or check the revision history or Manual of Style for more information.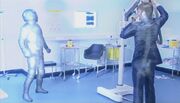 X-rays (or Röntgen radiation) were a type of electromagnetic radiation. They were used in medical examinations because they penetrated soft tissue, allowing a non-invasive exam of the internal anatomy; they could also be used to examine the interiors of sealed objects using the same method. High levels of X-ray radiation could be harmful to many forms of life. When focused into a coherent beam or laser, X-rays could be used as an offensive weapon.
Instances of medical X-ray use
Edit
Instances of X-rays as non-medical imaging
Edit
Instances of harmful X-ray use
Edit
X-ray-based weapons
Edit