Ad blocker interference detected!
Wikia is a free-to-use site that makes money from advertising. We have a modified experience for viewers using ad blockers

Wikia is not accessible if you've made further modifications. Remove the custom ad blocker rule(s) and the page will load as expected.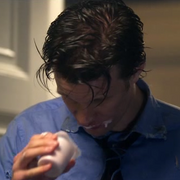 Yoghurt was a dairy product, sometimes flavoured, found on Earth. After the Eleventh Doctor regenerated he demanded yoghurt from Amelia Pond, declaring it his favourite. After eating it he spat it out in disgust, declaring that he hated it. (TV: The Eleventh Hour)
Years later, Amy threw out some yoghurt that had gone bad. (TV: The Power of Three)
Behind the scenes
Edit
The British division of Yoplait received a license in 2007 to market a Doctor Who-themed version of Frubes, their popular portable yoghurt range. Doctor Who Frubes thus came out at the start of series 3 — and promptly increased Yoplait's sales in that division by about a third. They used their license in 2008 for a second run.