Ad blocker interference detected!
Wikia is a free-to-use site that makes money from advertising. We have a modified experience for viewers using ad blockers

Wikia is not accessible if you've made further modifications. Remove the custom ad blocker rule(s) and the page will load as expected.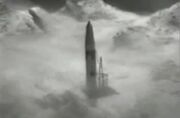 The Zeus V was a spaceship launched in by International Space Command in December 1986, on a rescue mission for the Zeus IV. Its mode of re-entry was splashdown.
Its sole occupant was Terry Cutler, who volunteered for the mission. Its mission was a failure as the Zeus IV was destroyed shortly after the Zeus V was launched. Cutler had to wait in orbit until the Cybermen crisis on Earth was over and contact with the Zeus V was re-established. He was the son of General Cutler, the commanding officer of the Snowcap base in Antarctica. (TV: The Tenth Planet)